From Conception to Completion
This is the process that went into the original.
Basic Man's Ring
Designed by Bob Brucker and Created by Carol Ahern-master goldsmith

The starting point in any piece is the concept. The initial sketch is rather primitive but in my minds eye I can see the finished piece
The Concept:
This particular ring will not win any awards for "economy" as the idea was to build what I feel is "a nice mans ring without regard to cost, or labor involved"... whatever it takes to make and to own a true masterpiece...
I wanted a ring that would require all of the skill and talent that a master goldsmith (Carol Ahern) could muster... the best of her efforts, talents and skills... "Push her to the limit" may be understated... I don't know, there are a lot of projects yet to be started..
Simplistic in design yet technically challenging from the foundation to finishing touches. A timeless design the appeal to JUST my sense of Balance, Rhythm and Justice while speaking every language, and touching the sense of good taste in those who have it to touch.
It needs to show quality Craftsmanship at it's finest, no short cuts! I want a ring to be recognized immediately as a quality piece of art by any old school master goldsmith or designer in any country. (and it is)
Every detail had to be there... with a slight hint of it being hand made... after all, It should not be so "perfect" that one would assume it comes from a machine...
But, I wanted it to fit perfectly, exclusively for my own finger like an old glove the moment I wear it..
It needs to have some "substance".. If I am going to wear a ring, want to know I am wearing a ring. I have heard too many stories of guys skinny little rings cutting their fingers off if crushed so I am making this in 18k two tone gold 6mm thick, 12 mm wide, weight 34 grams (over 1 oz).
I'd like a ring to withstand being run over by a truck.
"This is the ring I want to be something that will give me a lifetime of pride in ownership and equal pleasure in passing down to future generations."
When someone asks "how nice can it get?"
I want THIS ring to be a shining example
I wanted the hand of a master craftsperson to handle every detail no matter how tedious the task, by hand of course...
this all to me seems rather "Basic", hence the development of "The Basic mans ring" .
So between Carol and I, Here is what we came up with...
We proudly present the
"Basic Mans ring"
This block of wax is the starting point to the construction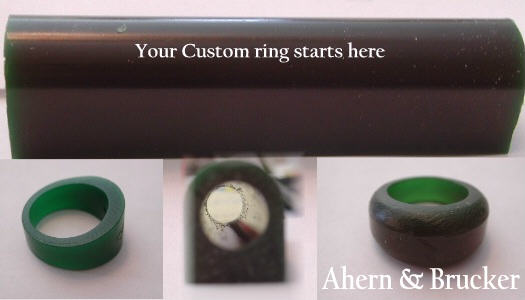 The ring is going to consist of 4 individually hand crafted pieces using both 18k yellow gold and 18k white gold. The base will be yellow gold.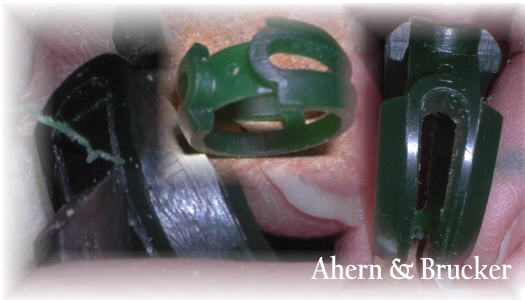 This ring will require 4 separate carvings to complete. But if that's what it takes than so be it... I am interested in seeing how MUCH can be put into this ring, not what I can get away with.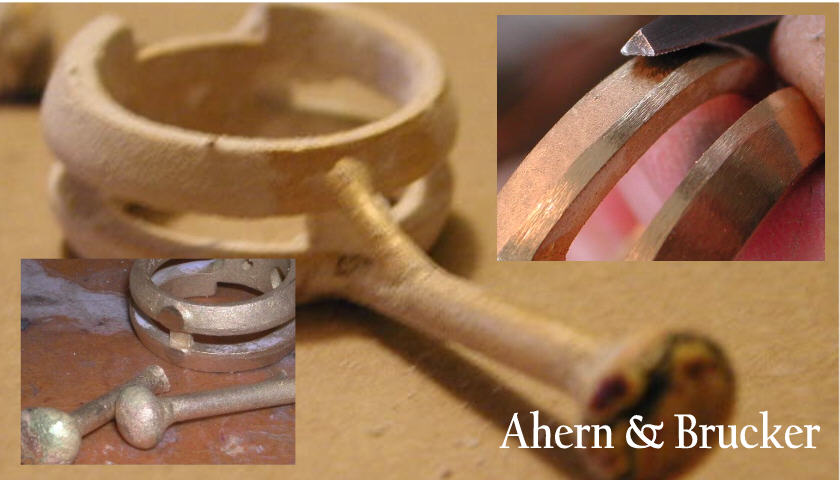 A mold is made of the base and than cast in 18k
Looks pretty rough coming out.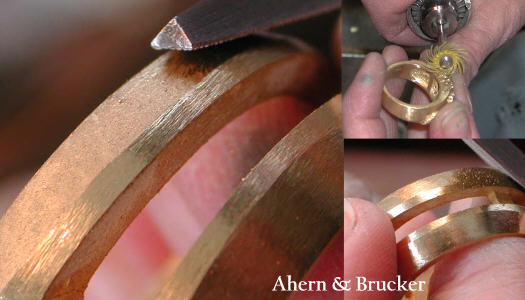 With some filing and sanding and close inspection to make sure there in no pitting or porosity, no weak spots nothing to cause us grief for the future... this is the foundation of the piece. If any imperfection we start over now. .
( It passes inspection.)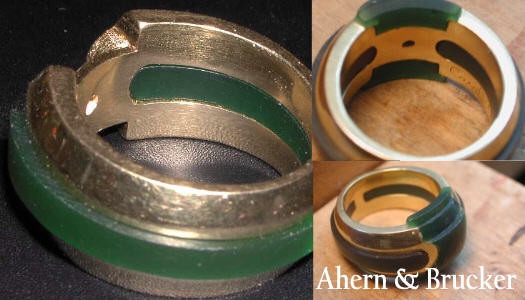 The top and side pieces are carved and cast. Each piece has to fit perfectly, and be solid through and through, I am looking for my design to "show" on the inside of the ring... now of course, To me, the inside of the ring is as important as the outside... Not all men feel this way, and not all men would spend the additional Money for it even if they did feel this way! But, again... this is my business. So I am compelled to have the best. (at least that's how I justify it)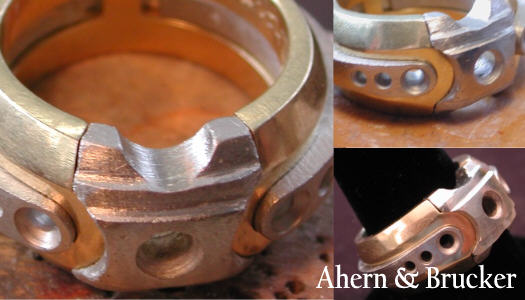 all looks pretty good except the sides don't fit properly. so we remake the side pieces.. one of those times when it doesn't pass inspection. So we cast again....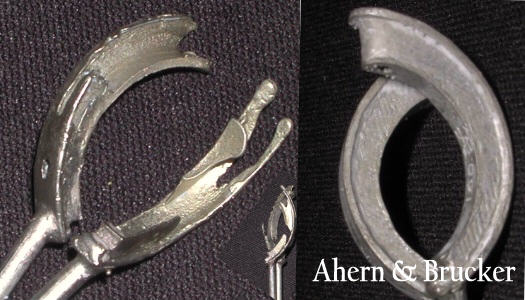 unfortunately they come out even worse! So Back to try 3... it doesn't matter how many times it takes to get it right, as long as eventually it is right.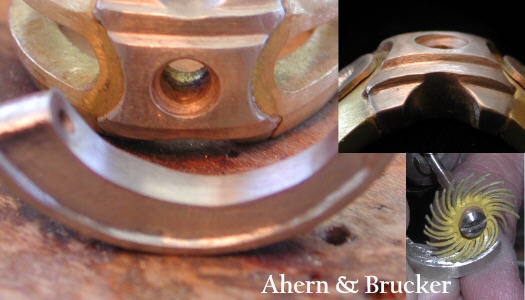 And the third time around it works fine.
passes inspection with flying colors and fits perfectly (With a little "persuasion")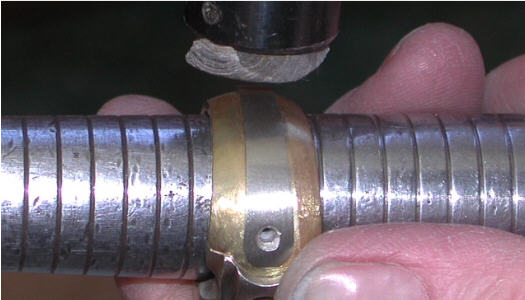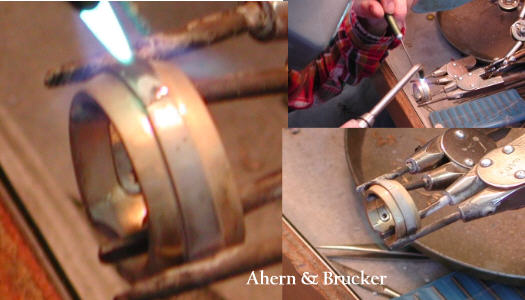 The sides and top are soldered in place, the wax was carved with meticulous care and fits perfectly. as you can see. it's unfortunate they needed to be carved 3 times but I see this as just a simple stumbling block on the way to our goal.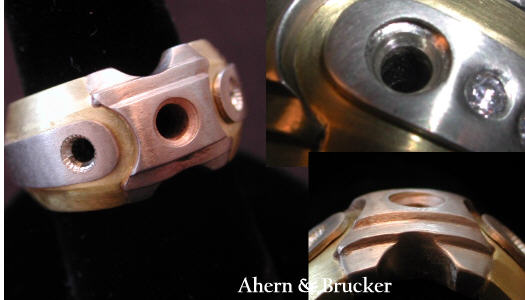 the seats are cut for a gypsy setting. We would not recommend this type of setting for an emerald as they are a bit fragile especially in white gold which is more difficult but, again this is my show and I want gypsy set emeralds in 18k white gold. Carol is worried and suggest we use blue sapphires. Nope, I want Emeralds.
It's getting close now!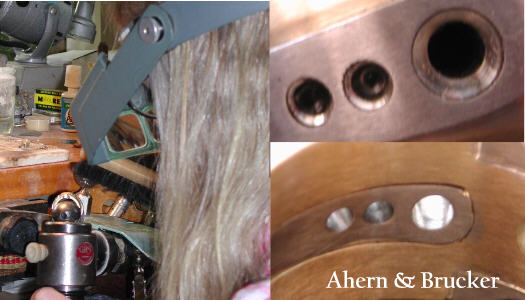 Here you can see how the seats for the stones are all perfectly cut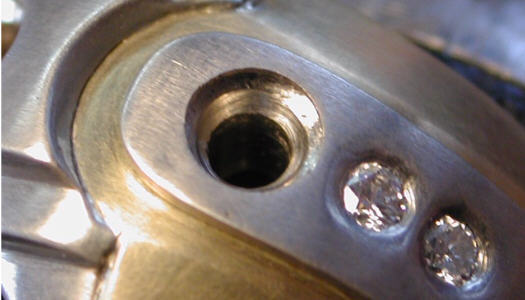 the Emeralds are gypsy set successfully. Some extreme polish and buffing to bring out the high shine and..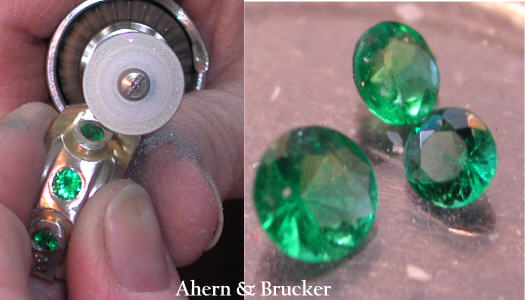 and before the final polish, it is looking pretty good.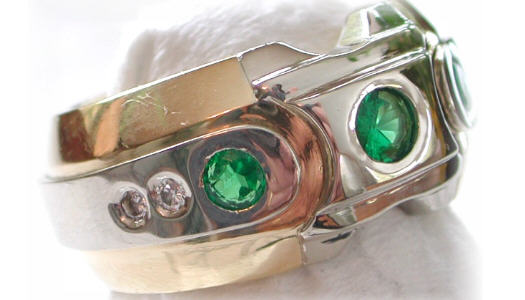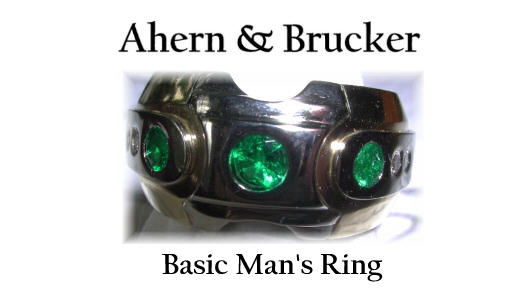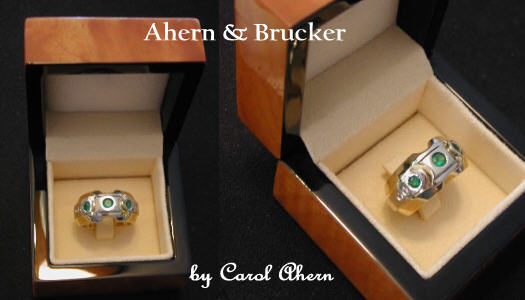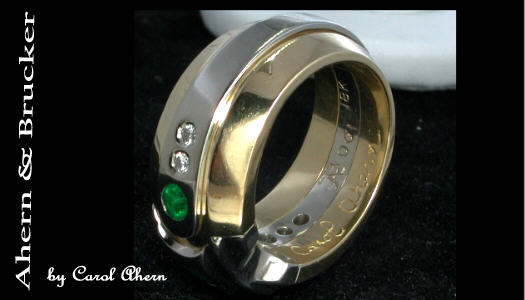 What can we make for you?
We asked this question and here is what one customer had to say:
Basic Mans ring
"economy model"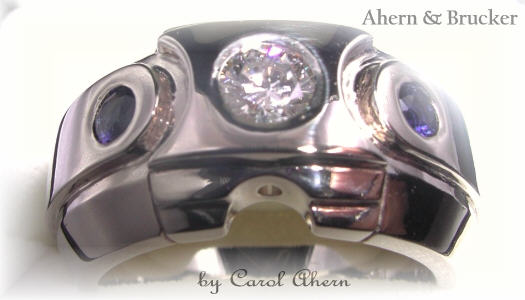 Now I had always wondered what this ring might look like with diamonds and sapphires in the original two tone version....
And, as chance would have it,
such a customer came wanting the same quality in his wedding band. Of course, I tried to talk him out of having it made "just like mine" citing it's cost and the time involved in making one, the absolute impossibility of ever having it resized, the added risk of gypsy setting stones using primitive hand tools, but we were easily persuaded when he told us he would be using some of the finest diamonds we have had the pleasure of working with.
So we present you with the
Basic Mans ring
8 Star
"Premium model"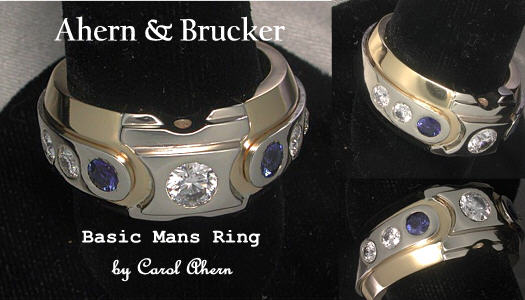 A thinner lighter weight model was requested by the next Customer who also used hearts and arrow branded diamonds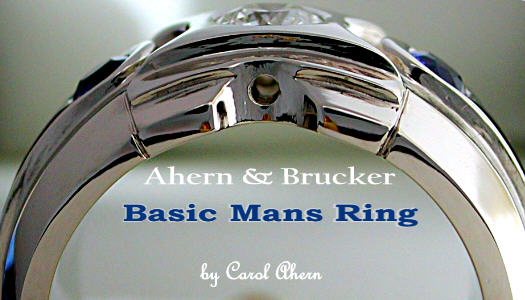 and not to be outdone, introducing the basic man's ring Platinum edition... emerald, sapphires & diamonds in pt950.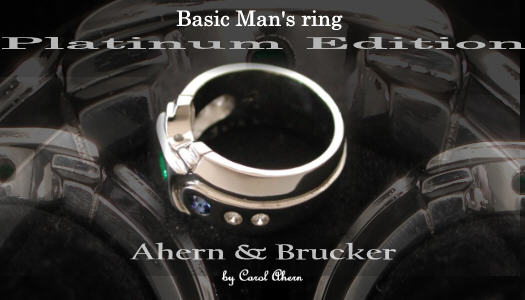 Here is an 18k palladium model with a sapphire center stone and H&A side stones.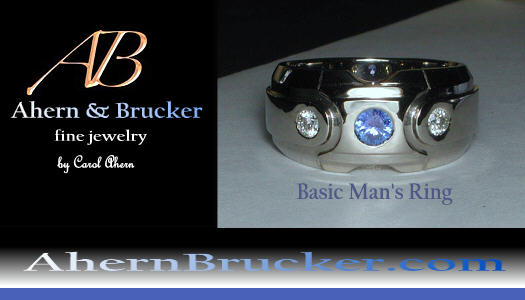 Now we have always wanted to see what this would look like with a fine ruby center stone and again, as luck would have it, Louis from Texas just happened to be browsing our site and 4 years later we have the Ruby version
Ruby & Diamond Basic Man's ring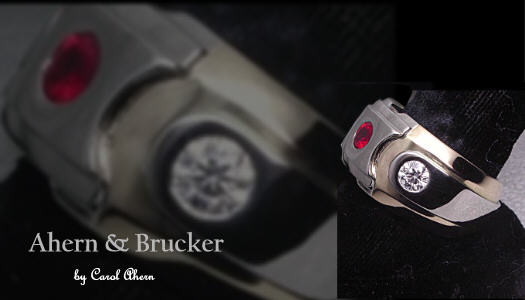 And our newest addition to this fine line of rings comes our "Patriot ring"
Over 1 oz of PT-950 the highest grade platinum and gem stones like nothing you will see in a retail store produces in a limited edition of 2008.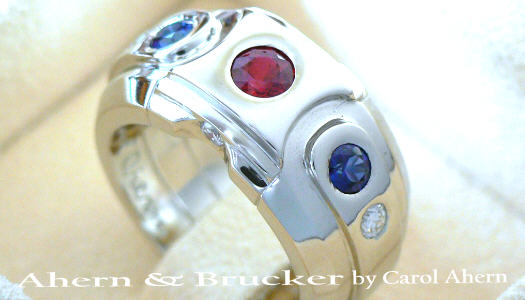 Basic man's ring with Ruby, Sapphires & diamond in Platinum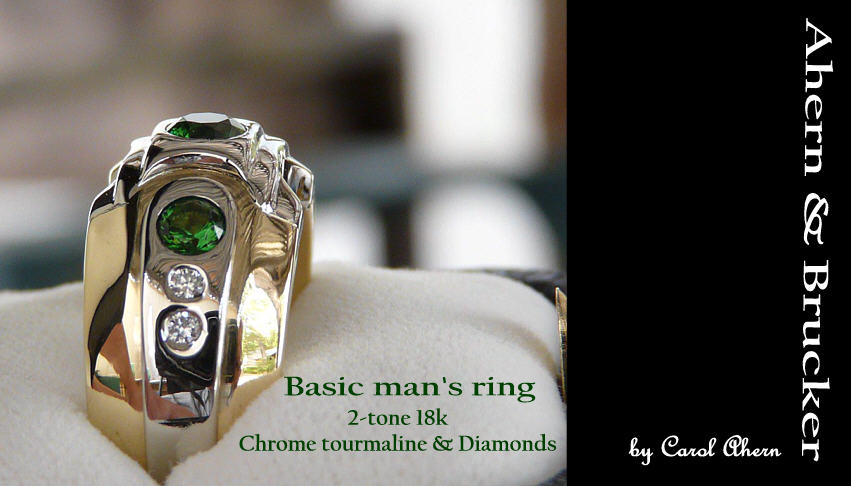 Now...
What can we make for you?
Prices from $2,500 to $12,500