Ahern & Brucker
Fine Custom & Limited editions Wedding & Anniversary Rings
by Master Goldsmith Carol Ahern
---
Each piece made by the skilled hands of Master Goldsmith Carol Ahern
Click on photos for behind the scene shop pics.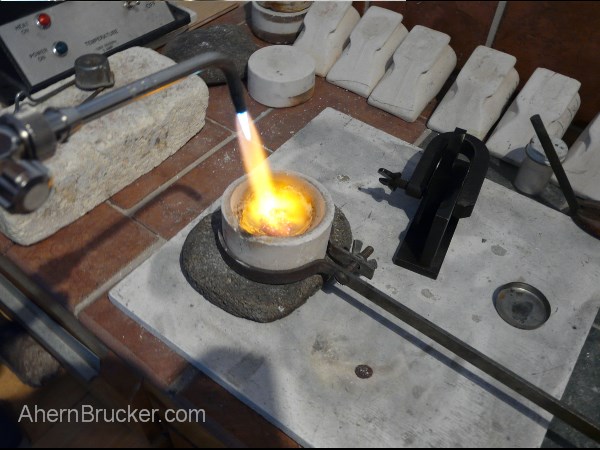 Hand forged 2 tone 18k diamond & tsavorite wedding ring

Golden imperial topaz 50th year anniversary ring with hand fabricated basket setting

Hand fabricated 2 tone 18k
What can we make for you?

Hi, my name is Bob Brucker, your host and narrator as well as Shopkeeper, Sales and Marketing, Accounting, Web Designer, and Photographer. I am also the guy who answers your e-mails and schedules the work.

Carol, holds the skill and talent! She's been making and designing (Bench work, Wax carvings, Stone settings, Mold making, Fabricating, Milling and yes, even hand polishing) Jewelry for 30+ years. (That is a lot of time for someone to perfect their skills) and as you explore our web site her level of Mastery will become obvious to you.

Our hope is to make your visit with us as pleasant as possible and if you should become a customer, than you be a satisfied customer.

So now that you have made it to our site...

I promise you wont be Disappointed! We have Something Your going to Love, be assured. We do both custom casting and hand fabricating in house. we are a "Mom and Pop" shop, therefore, you can expect full accountability and a buying experience you are not likely to forget. Done the way it should be...(a happy outcome each and every time)

We offer limited edition items and one of a kind items of our making. In addition, we design and manufacture custom gifts and accessories.

Hand Made Jewelry is an excellent investment PLUS, It's just nice to own and enjoy a fine custom piece of jewelry. (Especially if you have some input into the design.)
It is by far better (and wiser) to pay a little more for Genuine quality and get exactly what you want Vs the alternative. If you have the means, than by all means go for quality every time..

I believe our prices are fair and reasonable for the quality of work we produce. of course, this type of work carries a certain premium... (yes, that's right, I said it, "custom jewelry is not for the faint at heart") you should expect no "discounts or special promotions", nothing in our line is "closing out" or "liquidating"... however, you will be treated to a unique and fine experience and the workmanship and attention to detail will more than justify the "price" and "wait"..

Read a few letters from our customers

We offer to our customers:

Their choices of precious and semi precious gemstones from around the globe from which to choose.

Accessibility to some of the worlds most renowned Diamond Cutters, Stone Cutters and gem stone designers.

Custom Fabrication Work and or Hand carved waxes by a master!

Our own "Limited Edition" Pieces with extreme attention to detail.

Missing a antique "match"? We can duplicate your original by hand

Selecting a piece of jewelry is a personal decision. We are here to facilitate your dreams and visions into the reality you've dreamed about.

We will tailor your ideas to create beautiful masterpieces.
 
Why "not" settle for only the very best?
"Take" the Luxury of Flexibility over what happens to be on the rack.

We are only limited by your imagination & budget.

Again, we invite you to browse our site. No question is too insignificant. You will receive personal service and you can expect our strict attention to detail. We won't be satisfied until you, our customer, is satisfied.

I'm certain you will be happy with your experience with us. we have yet to experience a single dissatisfied customer in nearly 30 years.
What can we make for you?


This site is listed as one of
America's Top Wedding Links
http://www.topweddinglinks.com

Click here for more information