Ahern & Brucker
Fine Custom Jewelry
by Master Goldsmith Carol Ahern
How this Masterpiece is made like no other in the world.
"when you want it done right, this is what's required"
Welcome to our Studio & Shop where we invite you to take a look at some of the elements and detail that go into our ring. for example:
Notice that our edges are sharp and crisp, the anchor and chain are finely detailed... If you look close, you will see the letters are not simply "plated", they are "Capped" with white gold milled in our shop. and the gem stones are alive and bright and have the proper color. Their is even a plate between the anchor and the base to insure fine definition and a mirror backing. This is all done by a master goldsmith with purpose and thought.
The gem stones are all personally high graded from amongst the finest premium stones available and matched for size and color consistency, They are all individually hand set instead of simply pre-setting them in the wax as in "cast in place". It takes a lot longer and adds to the ultimate price but... it's the only way we can insure the azures (stone holes) can be properly sanded and polished which will give the premium gem stones the most proper setting and background in which to sit.
This ring is generously weighted and perfectly balanced, when you feel this ring, you will be happily surprised. It's not "thinned down" to meet some arbitrary price point. It's a solid ring through out... What you would expect a quality ring to feel and look like.
Now, the finish... this is a level of great pride for the Master goldsmith Which requires hours of hand sanding and polishing every nook and cranny over and over... Not simply tossed in a tumbler for a few hours and called "good enough"... When "we" say uncompromised quality, it's exactly what we mean. And the result is something you can clearly see.
Yes, we put a lot of work, thought, money, time and pride into making our rings, and use the finest materials available on earth...all of the corners that "could" be cut aren't.
Uncompromised quality and uncompromised workmanship equal excellence and balance
Our customers have no use or time for mediocrity or complacency and understand the value of a job well done and what that requires... and how very rare it is to find these days...
For those, we dedicate our services.
This ring is a combination of lost wax casting and hand fabrication both done by Master goldsmith Carol Ahern (35+ years of custom work).
The ring weighs a little more than 1 oz of 18k in a size 10 1/2.
The fouled anchor with the letters representing "Unity-Service-Navigation" are in 18k yellow gold with gold letter caps matching the ring. The Chief ring is a 5 piece ring. the MCPO ring is 7 pieces and the senior chief ring is 6 pieces. (not including the set of 6 gem stones all perfectly set by the hands of a master.) Submariner models add 8 additional pieces
The following photos show some of the steps that went into making this fine ring and as you brouse our pages, you will find more examples.
The wax model and selecting the Gem stones for the prototype.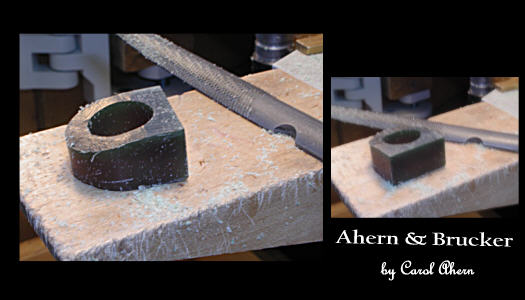 Diamonds are V V S / d-e and the ruby & sapphire are of equal quality. we personally select (high grade) each matching stone set. We determine the stone sizes by the size of the ring. (every ring is in perfect proportion)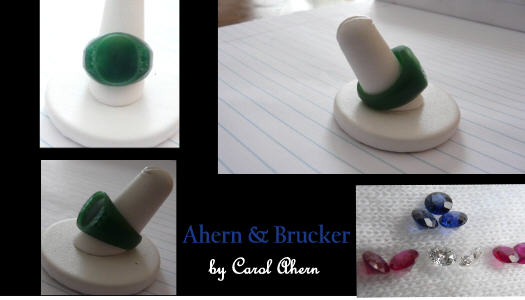 after casting using all newly refined gold (not old gold melted and reused) this assures the finest possible finish and assures you your ring is not made of "scrap gold" which has less value..

Milling the sheet for letter caps

We cap the emblem with 18k sheet vs. gold "plating"...

this is a major pain in the arse but, it's the right way to do it.

Cutting the letters caps in 18k sheet

Measuring letter caps

Soldering letter caps to Emblem

(These are laser welded now)

Rough polish of band

Soldering emblem to band

Now, the ring is ready for stone setting. these are all professionally set by Carol.

Stone setting...

there are a couple ways to set stones... the easiest is to set the stones in the wax and cast... called "cast in place".

the other way of course is the right way to set stones...se below.

Before final hand polishing

And with perfect ingredients and a lot of effort and time by a seasoned goldsmith, the result is a Masterpiece.

this is the way a well made ring is made. It's not easy, fast or cheap.... anything less is simply compromise.