Yin and Yang
The yin-yang is an ancient symbol of harmony, balance, unity, and the modern version as created by Ahern & Brucker has transformed and updated this image into a multi-dimensional personalized piece of jewelry suitable for both women and men that literally feels as if the metal flows with light and movement.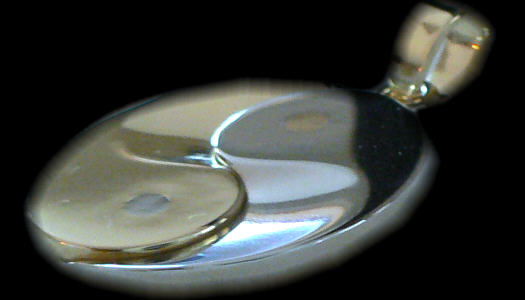 It catches the eye and captures the imagination. Whether as an expression of romantic passion, personal serenity, or family unity, this yin-yang pendant is rare in this day and age for its careful melding of simple, elegant design, and exquisite and painstaking craftsmanship by Master goldsmith Carol Ahern.
Available in a variety of options -metals, stones, construction- all of which lets you create a unique and genuine reflection of your true self.
To view the various levels of customization and modification and, the finer details, Click on the photos.
Welcome to
Ahern & Brucker
Fine Custom & Limited edition jewelry
by Master Goldsmith Carol Ahern
Working with the individual or couple to create a unique and distinctive wearable masterpiece
_________________________________________________________________
_________________________________________________________________
_________________________________________________________________
___________________________________________________________________
___________________________________________________________________
___________________________________________________________________
___________________________________________________________________
_______________________________________________________________________________
___________________________________________________________________
___________________________________________________________________
___________________________________________________________________
___________________________________________________________________
___________________________________________________________________
___________________________________________________________________
______________________________________________________
____________________________________________________
___________________________________