Rare Earth Specimens
Museum Pieces
Amethyst – Flowering Calcite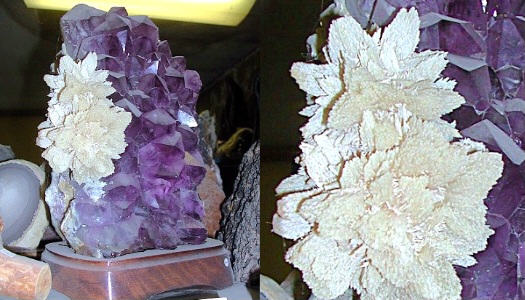 Specimen 8 inches wide – 8 inches deep – 11 inches tall 10 lb. – 3 inch by 5 inch flower – no blemishes. $980 including packaging – shipping and insurance are charged the actual amount..
The amethyst cathedral geode broke after the amethyst formed. Mineralized water flowed into the cavity and the flower formed on the edge of the amethyst. The chances of an additional occurrence seem highly unlikely.
A true museum piece in every respect.
________________________________________
Cathedral Geode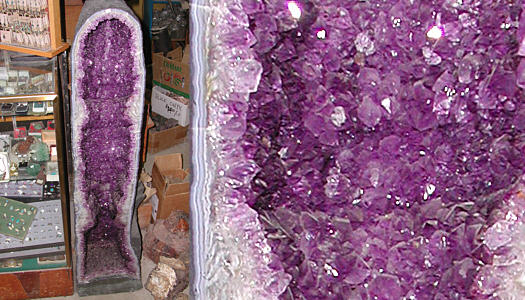 Rocky2-1
Cathedral Geode –
Four feet of awesome splendor with a base 14 inches by 20 inches weighing 190 pounds (approx). This tall slim geode formed over a very long period – evidenced by the two collar ridges which are spaced within the geode. The ridges indicate that after the entire geode filled with the high silica water and formed the amethyst crystal the elevation of the geode changed two times during the formation with the mineralized water flowing at the two elevations adding to the thickness of the crystal.
______________________________________
Citrine Geode – Quartz –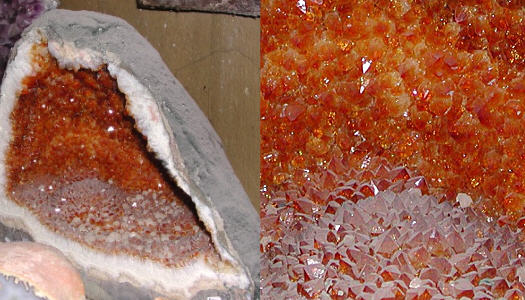 Rocky3
14 inch wide – 6 inch deep – 12 inch high – 27 pounds.
Citrine occurs as amethyst is heated by nature which changes the light purple to the orange or yellow. Quite a few calcite occur in the bottom of the geode. Citrine is less common than the amethyst . $875 including shipping and insurance.
____________________________________
Cathedral Geode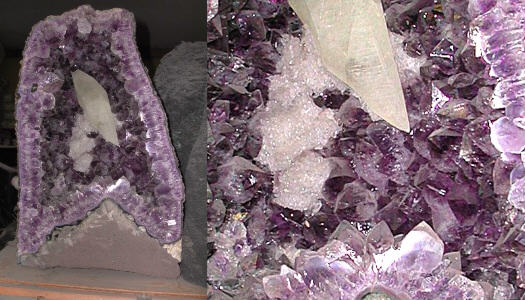 Rocky4
Cathedral Geode – The large white crystal formed in the gas bubble first – then the amethyst – then the white quartz. The perfect orientation was possible
Because the cavity was viewed through a drill hole formed while mining the geode. The large white calcite is termed dogtooth calcite – technically called scalenohedral calcite.
The Dogtooth Geode measures 13 inches high – 10 inches wide and 8 inches deep. $1800.00 including shipping within the U S A and insurance
_____________________________________________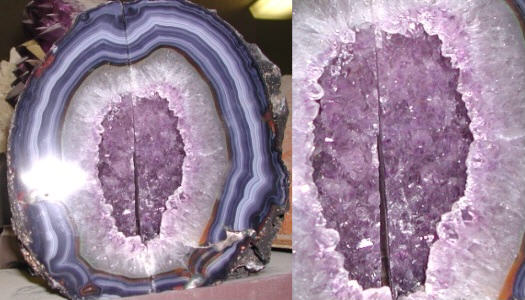 rocky5
_____________________________________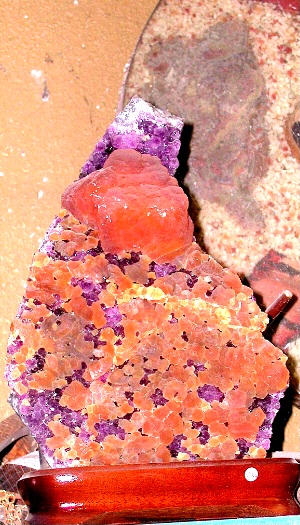 Rocky6
_________________________________________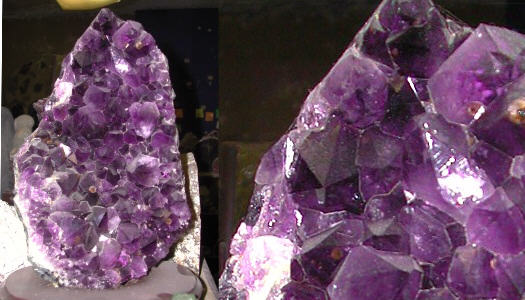 Rocky7
_____________________________________________

View My Guestbook
Sign My Guestbook