View our entire line of yin yang pendants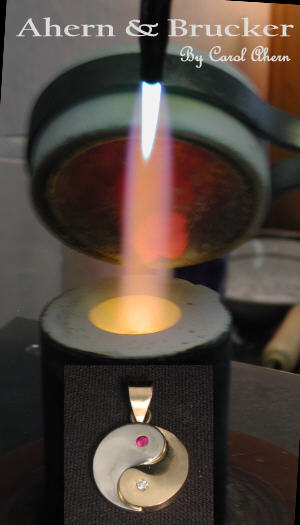 Double 2 tone 18k Yin Yang and double sided available with or without gem stones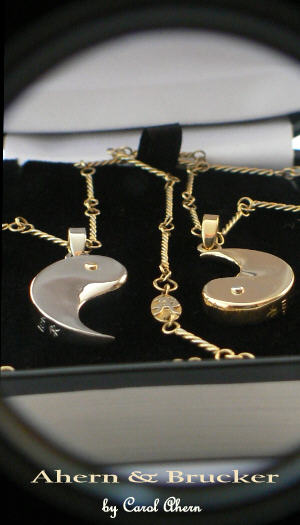 Our New hand fabricated 2 tone 18k yin yang pendant with solid back
Our design cut in natural black and green jade bordered with white gold and set with a natural ruby & sapphire.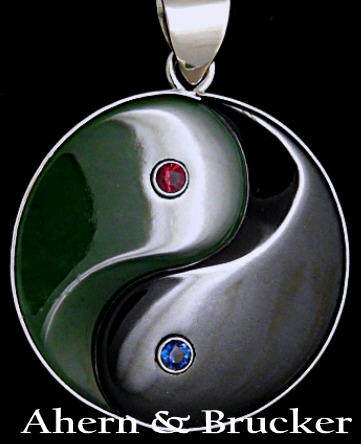 Welcome to
Ahern & Brucker
Fine Custom Jewelry designs & Limited editions
by Master Goldsmith Carol Ahern
Limited edition
Custom Platinum & 18k Yin Yang Masterpiece Ring.
Platinum, 18k yellow, red & white, Yellow gold, Blue Sapphires and Ruby
Click on Photo for more pics of this Masterpiece.
Limited to 12 rings per year (6 sets)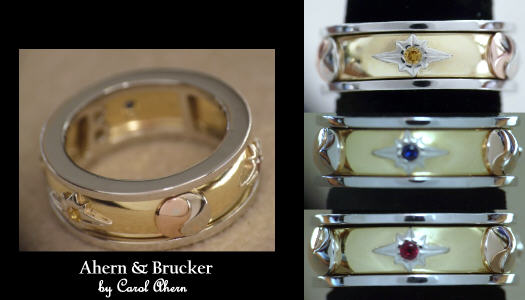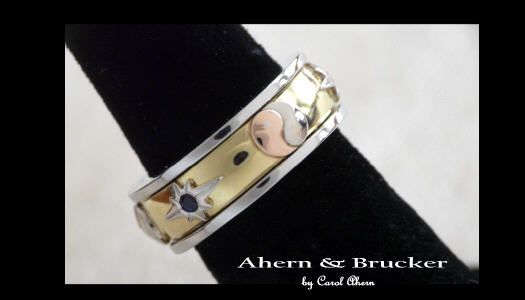 Click on Photo for more info

The shopkeeper

Welcome to our little on-line Mom & Pop Shop & studio, my name is Bob Brucker, your host and narrator, Sales and Marketing, Accounting, Web Designer, design consultant, customer service advocate & Photographer.

I am also the guy who answers your e-mails and schedules the work.


The Goldsmith


Carol, holds the real skill and talent! She's been making and designing (Bench work, Wax carvings, Stone settings, Mold making, Fabricating, Milling and yes, even hand polishing) Jewelry for 30+ years. (That is a lot of time for someone to perfect their skills) and as you explore our web site her level of Mastery will become obvious to you.

So now that you have made it to our site...

I promise you wont be Disappointed! We have Something Your going to Love, be assured.

We do both custom casting and hand fabricating in house. Since we are a "Mom and Pop" shop, you can expect full accountability and a buying experience you are not likely to forget. Done the way it should be...(a happy outcome each and every time)


We offer limited edition items and one of a kind items of our making & design. In addition, we design and manufacture custom gifts and accessories.