Welcome to Ahern & Brucker
Fine Custom Jewelry designs & Limited editions
by Master Goldsmith Carol Ahern
For this time in your life when "off the rack" will not suffice..
18kt Gold Hand Fabricated Chains

A hand made chain is very nice, but they are very time consuming to make and consequently, more expensive than a manufactured chain.

The chains we make are entirely hand fabricated, come in your choice of 14kt & 18kt gold.

We have listed 2 styles.. the first being a hand twisted 18kt gold chain with your choice of 14kt clasp or 18kt hook.

The second type, is a flat link which also comes with you choice of 14k or 18kt

From these two general types of chains, we can change the size of the links or inter mix different colors of gold.. let your imagination run wild!

I can personally testify that the flat link chain shown above has been worn every day for 25 years and has never needed a repair or adjustment.

What can we make for you?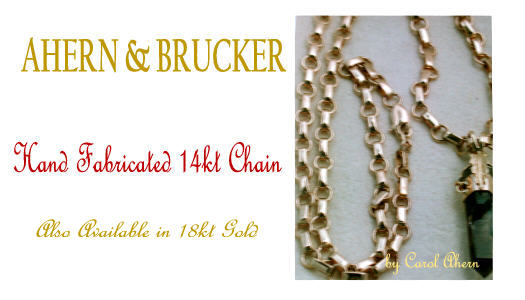 # chains
---
[ Listings ] [ Search Products ] [ Contact Us ] [ Who We Are ] [ Custom Orders ] [ Craftsmanship at it's finest ]