Welcome to Ahern & Brucker
Fine Custom Jewelry designs & Limited editions
by Master Goldsmith Carol Ahern
For this time in your life when "off the rack" will not suffice..
Sterling or Solid Silver 'SOLID Cast' Morels!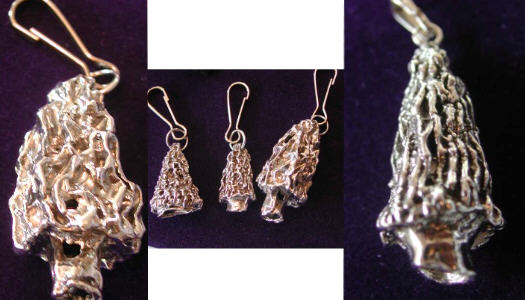 I cant think of ANY Mushroom person who wouldn't Love to have on of these! Each one is cast from a real Morel! SO quite naturally, every single piece is individual and unique to it's own..

We only have a few of these left, and quite honestly don't relish the thought of making more! So "available now, with no promises of making more" If you want one, better hurry!

However, if you Already have your favorite morel, and would like us to cast it in 18kt gold... we would be more than happy to.





# cstss
[ Listings ] [ Search Products ] [ Contact Us ] [ Who We Are ] [ Custom Orders ] [ Craftsmanship at it's finest ]