Ahern & Brucker

Fine Custom Jewelry designs & Limited editions

by Master Goldsmith Carol Ahern

For this time of your life when "off the rack" will not suffice..

Navy Chiefs Ring

The orders from the "Chief" were as follows:




"Design a ring that represents the finest in American craftsmanship."

He
had been looking at the available designs of other Military rings and wanted something


"clearly a cut above the rest being both Distinct and Unique".

Carol and I took this project mainly because the retired chief just so happened to be her "Uncle Pat" "Retired Navy CPO Patrick Ahern (now deceased)

N

eedless to say, we must have done something right because he was very impressed when we delivered our version of what a CPO ring "should" be.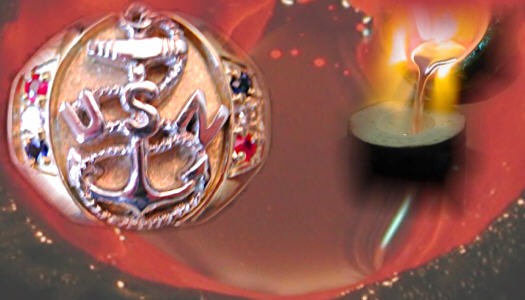 Here are the specs of this ring


Ring made in 18kt Yellow and white gold 

This ring is constructed of two pieces, the center piece being 18kt white gold, with a satin finish  which was hand carved by Carol as well as the 18kt yellow base.




Total weight approx 37 grams (Clearly over 1 oz) 


Rubies Sapphires Diamonds


(2 ea -6 total)

; AAA grade sapphires and rubies and diamonds The rubies and sapphires are beautiful and a have great color! The diamonds are vvs1 "g to h" in color. (if you don't know stones, take our word for it, these are very nice gems.).



We would also be happy to carve your particular insignia for this ring or Build a ring of your design.


______________________________________________







Style 002
---