Welcome to Ahern & Brucker
Fine Custom Jewelry designs & Limited editions
by Master Goldsmith Carol Ahern
For this time in your life when "off the rack" will not suffice..
18k white gold aquamarine & Diamond Horseshoe ankle bracelet with hand forged chain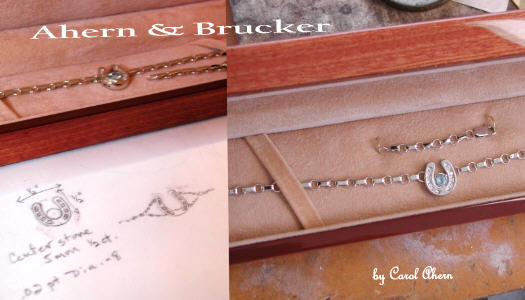 We made this for a customer who wanted something really nice for his wife...The instructions from the customer were simple... "make it nice"

So we did. I had a stone cutter/designer cut one of his new stone design with his very finest aquamarine natural gem stone.

the diamonds are as near to a perfect match as humanly possible, these were selected over time by a gem dealer who had been collecting "matching" diamonds (and specializing in matching diamonds) over his career of 40 years.

The customer considered a store bought chain but was not really happy with any he had found... although I tried to talk him out of a hand made chain citing time and expense, he convinced us to hand make this chain for his wife's ankle.

We don't want to get in the business of chain making but when someone absolutely has to have it done and done right, we can be persuaded to hand make a chain.

To make it a little more versatile we even added an extension so this can be warn as a wrist bracelet and could also be modified to wear as a pendant.

to get a better look at this masterpiece and to see how it was made, the thought, effort and skill required to bring this to life Including sketches of the first sketch
click here

What can we make for you?


# jaqua




---
[ Listings ] [ Search Products ] [ Contact Us ] [ Who We Are ] [ Custom Orders ] [ Craftsmanship at it's finest ]