Welcome to Ahern & Brucker
Fine Custom Jewelry designs & Limited editions
by Master Goldsmith Carol Ahern
For this time in your life when "off the rack" will not suffice..
Custom Diamond branded horseshoe pendant with hand forged chain.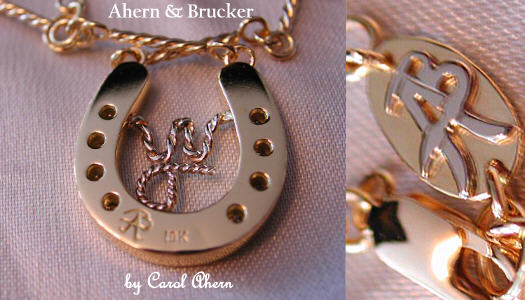 We made this for a customer who wanted a nice piece of jewelry for his wife... the requirements were simple, "make it nice"

Here is what can be created and accomplished when nothing but the very best will suffice.

A custom Horseshoe pendant with 8 matching v v s diamonds (g-h color) in 18k yellow gold and 18k white gold rope brand (customers ranch brand) and 2 tone 18k hand forged rope chain.

Now least you viewers have any idea that this piece was simply "ejected" from a machine...
click here to see how this project came together from conception to completion and... total satisfaction.




What can we make for you?


# wes1
[ Listings ] [ Search Products ] [ Contact Us ] [ Who We Are ] [ Custom Orders ] [ Craftsmanship at it's finest ]