Ahern & Brucker
Fine Custom Jewelry designs & Limited editions
by Master Goldsmith Carol Ahern
For this time of your life when "off the rack" will not suffice..
Australian 'Yowah' Opal Pendant


This pendant is another of Carol's Custom Pieces.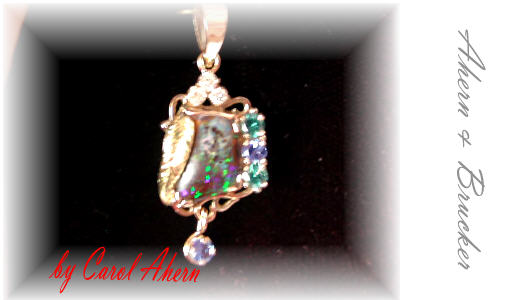 Showing off her 26 years of skills with fabricating, this Genuine Yowah opal as a center piece surrounded with "glacier blue & teal green" topaz to the right, three 3 point diamonds at the top and a hanging topaz from the bottom.. and setting off the 14kt gold piece is a hand fabricated 18kt gold leaf! We Also are making a A Hand Fabricated 18kt gold Chain with this piece.

To view a piece with a bit more complexity and to see how a piece is made from conception to completion click here


What can we make for you?



# 002
[ Listings ] [ Search Products ] [ Contact Us ] [ Who We Are ] [ Custom Orders ] [ Craftsmanship at it's finest ]